Education in West Africa is different than it is in the United States. Schools, whether chartered by cities, villages, churches or other organizations, use a curriculum set by the national government. They receive government support ONLY for teacher salaries.
Students, their families and sponsoring organizations supply everything else: books, supplies, equipment, even furniture! There are very few books. Few children can afford paper and pencils, so many students learn only by listening. Most of the learning tools –books, markers, paper, calculators – which we in the U. S. take for granted are unavailable to the majority of students because of simple economics.
Physical Therapy (PT) programs in hospitals and clinics in West Africa are limited in services to the public because of budgetary restraints. Once again, we can help with gently used equipment and dollars to bolster their programs
In America, however, we often find it more convenient to replace than to repair. We need (or think we need) the latest model of computer and new pens and notebooks at the beginning of every school year. Medical equipment used in PT programs that becomes obsolete here might still be usable in West Africa in places which presently have none. So what happens to the things we discard in favor of a newer model, a fresh supply or the latest version? Unfortunately, many times those still usable items end up in our landfills! We cannot and must not continue to do that!
There IS a better way, a more creative approach. Why not share those items with those who could – and would – put them to productive use?
Sharing things with people half a world away isn't a simple thing, but with a little imagination, the enthusiasm of a great number of people, some very long days, and a lot of good old fashioned elbow grease, it can happen… it has and it will continue to happen!
What we do to make it happen in the U.S.
Recruit volunteers
Collect computers, school and physical therapy supplies
Raise funds
Evaluate and refurbish equipment and supplies
Pack and ship via ocean freight or to be carried by travelers
What we do to make it happen in Ghana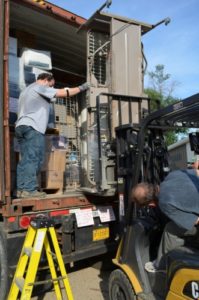 Evaluate school or PT unit readiness
Assist schools or PT programs in planning for:

Physical space
Business operations
Goals & methods
Sustainability of project

Ship and deliver computers and PT equipment and supplies
Provide support and follow-up advice to African organizations
Listen to the needs of NGOs, PT departments and schools
Work with the E.P.A. of Ghana for safe disposal of e-waste